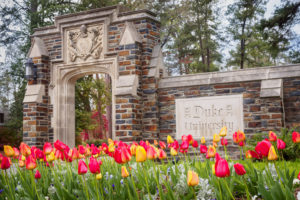 The Duke Global Health Innovations Center is proud to be a part of Duke University's extraordinary response to COVID-19. We are:
saving lives in our hospitals and clinics, and through the extraordinary preparation, skill, courage and commitment of our healthcare workers.

discovering treatments, potential vaccines, and innovative safety processes in our laboratories.

reinventing education and serving students in every state and around the world, supporting them through an unimaginably disruptive time and with a focus on preparing tomorrow's resilient leaders.

anchoring our communities through a commitment to our employees and their families.

ensuring that our essential missions of teaching, learning, research, patient care and service to society survive, thrive and excel despite the challenges we face

helping to shape policies that will restore our society.
We know that people are listening–medical and research professionals, current and prospective students, parents, alumni, the media and the public. The immediate Duke community of 16,000 students and 43,000 faculty and staff is advised via Duke Today and The Duke Daily, e-newsletters published at 6 a.m. Monday-Friday. Access to the Duke Daily is now extended to external stakeholders as well, who can sign up here.
Duke University: Making a Difference in the World