Lisa Bourget, Senior Director, Strategy, Management, and Partnerships
Lisa brings years of experience in the start-up, growth, and profitable leadership of dynamic enterprises within the pharmaceutical, biotech, and healthcare industries. Prior to joining Duke, Lisa was Senior Manager of Portfolio Analysis for Talecris Biotherapeutics, where she was responsible for defining research and development strategies by evaluating business cases for several new product and lifecycle management opportunities. She has collaborated on several start-up companies in senior housing, and health and wellness, and co-founded Clinexus, a start-up clinical research company. Her experience also includes senior roles in healthcare investing and divestiture, consulting for Accenture, and managing physician practices.
Lisa graduated from Tufts University with a degree in Economics and Pre-Medical Studies and earned her MBA from Duke's Fuqua School of Business.
---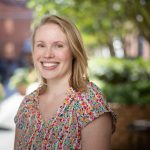 Kate Crissman, Research Analyst
Kate is a Research Analyst at GHIC/IiH team. She collaborates with and contributes to the planning, organizing, and implementation of research undertaken by the Evaluating Saving Lives at Birth (ESL@B) team. She has lived and worked overseas in Ecuador, Peru, Kenya, Malaysia, and Bangladesh.
Kate earned her Master's in Public Health from the University of North Carolina at Chapel Hill Gillings School of Global Public Health with a concentration in Maternal and Child Health and a certificate in Emergency Management. She earned her Bachelor of Arts in Public Health from Elon University.
---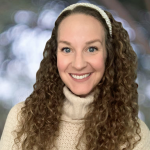 Melissa Estrada, Manager, Communications and Engagement
Melissa is a Communications and Engagement Manager with the Global Health Innovation Center and Innovations in Healthcare. Melissa focuses on planning, coordinating, and administrating IiH Innovator Network activities aimed at accelerating and scaling growth-stage innovators in the network, currently a multi-million-dollar portfolio of 100+ innovators in 90+ countries. She works closely across multiple functional teams to coordinate all efforts to develop, engage, and grow a diverse community of innovators, corporations, foundations, public entities, investors, and funders.
Melissa is a former Global Communications Officer for the University of Virginia. She received her Bachelor of Arts in Communication and Sociology with a minor in fitness from the University of Pittsburgh.
---
Jessica Harris, Manager, Program Operations
Jessica is a Program Operations Manager at the Duke Global Health Innovation Center where she helps manage many programs and initiatives. She has more than 15 years of experience managing and executing various programs and events.
Jessica speaks German and Spanish and has a Bachelors Degree in Political Science from the University of North Carolina at Chapel Hill.
---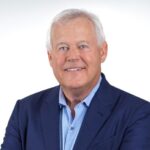 Jack Leslie, Senior Visiting Fellow, Duke Global Health Institute and Visiting Fellow, Duke-Margolis Center for Health Policy.
Jack is a strategic communications executive, political consultant and international development activist. Leslie is the former chairman of Weber Shandwick, one of the world's leading communications and public affairs firms. He is also one of the pioneers of political consulting and stakeholder engagement, having served as political director for Senator Edward Kennedy. Presently he is senior advisor of Weber Shandwick, chairman of the Board of Directors of the US African Development Foundation, and a past member and chair of the Duke Global Health Institute's Board of Advisors. He also chairs the Board of Directors of the Elizabeth Glaser Pediatric AIDS Foundation (EGPAF) and serves on the boards of Water.org and the John F. Kennedy Library Foundation.
In his role at Duke, Leslie will build from work he began at The Rockefeller Foundation's Bellagio Center Residency to understand the crisis of trust in public health, which has been building for decades. A convening of global public health stakeholders, led by Leslie and colleagues from Duke in November 2022, identified and prioritized specific actions that hold promise to enhance trust with a focus on communities, communication, and competence. These focus areas will serve as the building blocks for a larger global initiative to strengthen trust in public health.
---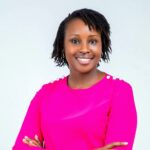 Emily Macharia, Research Associate, Africa
Emily is an economist passionate about health system strengthening. At the Duke Global Health Innovation Center and Innovations in Healthcare, Emily supports research and knowledge management across different projects within Africa. Prior to joining GHIC, Emily supported the East Africa regional health secretariat, national and sub-national level governments in Kenya to strengthen their health systems through research, advocacy for sustainable health financing, designing patient centered health care solutions, policy formulation and dissemination and public and private sector engagement.
---
Wenhui Mao, Assistant Director, Programs
As an Assistant Director, Programs for the Duke Global Health Innovation Center and Innovations in Healthcare, Wenhui supports the knowledge and research initiatives, content and project management and strategy for the BMGF Launch & Scale Speedometer program, the COVID-19 Global Accountability Program, and the Catalytic COVID-19 "Test and Treat" program. Wenhui brings expertise in health economics and health policy and is passionate at improving the access to and equity of health services globally. She has been working extensively in the health reform and health policies of low and middle income countries, and their impact on global health. Wenhui has published over 120 academic articles, policy briefs, working papers and blogs. She serves as the research committee of Consortium of University of Global Health (CUGH), Editorial Board Member and Guest Editor for multiple journals.
Prior to joining GHIC, Wenhui was a Senior Policy and Research Associate at the Center for Policy Impact in Global Health and a postdoctoral scholar at Duke Global Health Institute, Duke University. Wenhui received her Ph.D. in Health Economics and B.A. in Public Health from Fudan University, China.
---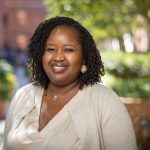 Eunice Mutindi, Manager, Programs and Engagement
In her role as Manager, Programs and Engagement, Eunice supports African innovators in achieving scale by connecting them to key stakeholders such as peer innovators, partners, and funders. Prior to joining the Global Health Innovation Center and Innovations in Healthcare, Eunice worked as a fund lead for an early stage fund in Kenya that invests in innovative startups in the technology sector. She was responsible for recruitment, startup coaching, and fundraising. Eunice has more than five years of experience working with startups in sectors such as health, agriculture, and logistics.
Eunice earned a degree in International Business Administration with a concentration in Management from the United States International University-Africa.
---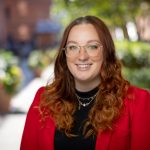 Katharine Olson, Research Analyst
Katharine is a Research Analyst with the GHIC/IiH team. She provides research support on the Launch and Scale Speedometer and COVID Global Accountability Platform projects. She is a returned Peace Corps Volunteer who served in Botswana from 2018 to 2020.
Katharine earned her Master's in Public Health and Tropical Medicine from Tulane University. She earned her Bachelor of Science in Public Health and Biology from Furman University.
---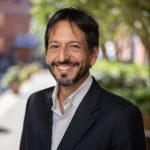 Ernesto Ortiz, Senior Manager, Programs
Ernesto is a Peruvian physician based at the Duke Global Health Institute and the Global Health Innovation Center . Previously, he worked at the U.S. Naval Medical Research Unit (NAMRU-6) in Peru conducting research on tropical infectious diseases in Peru and other LatAm countries. At Duke, his research has  focused on the human-environment interaction and its impact on human health (i.e., exposure to heavy metals, zoonotic diseases, chronic diseases, etc.) in the Peruvian Amazon.
Ernesto has experience in public health, epidemiology, and research with a strong focus on work in underserved areas of Peru and Latin America. He has worked with all levels of the public health system in Peru and LatAm, including engaging with public health stakeholders including Ministries of Health, regional and local authorities, policy makers, public and private institutions, NGOs, and community organizations. He is passionate about Peru, and also about translating research into improving health for all.
Ernesto earned his Master's degree in public health degree from the University of Iowa.
---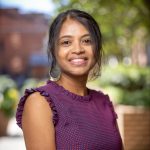 Sowmya Rajan, Assistant Director, Programs
Sowmya is a sociologist and social demographer with experience in the monitoring and evaluation of health programs in low- and middle-income countries, with a major focus on reproductive health and family planning. Within the Global Health Innovation Center and Innovations in Healthcare, she manages a portfolio of innovation-focused grants to improve health systems and access to healthcare, and evaluates research to build evidence that informs healthcare programs and policies. She has expertise in global reproductive, maternal and child health, social scientific and evaluation research, and fertility and family planning, and has published in journals such as Demography, Population and Development Review, and Population Research and Policy Review.
Sowmya earned a Master's degree in Public Policy from the Sanford School of Public Policy and a PhD in Sociology, with specializations in Medical Sociology and Population Studies, from Duke University. Prior to her position at GHIC, she was a postdoctoral scholar at the Carolina Population Center, University of North Carolina, Chapel Hill.
---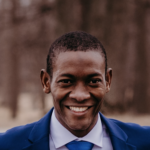 Aziz Seh Ibrahim, Grants and Contracts Administrator
Aziz supports the management of grants in the GHIC portfolio. He has more than 12 years of experience, both in the US and internationally. Prior to joining DGHI/GHIC, he worked at UNC Gillings School of Global Public Health in the Epidemiology Department for three years. Before to moving to the US, he worked at the international NGO, Population Services International, as an accountant. He is a native of Benin, West Africa and is fluent in French and two local Beninese languages.
Aziz earned his Master's Degree in Audit, Management Control, and Finance, and Bachelor's Degree in Business Administration from ENEAM.
---
Diana Silimperi, Adjunct Professor / Executive-in-Residence
Diana Silimperi is an international public health pediatrician, epidemiologist, and global health thought leader. She brings 35 years of global experience leading the planning, design, implementation or management of large-scale integrated healthcare service delivery and health system strengthening programs in more than 50 countries in Africa, Asia, and Latin America. Prior to joining Duke in 2019 as a Visiting Professor of the Practice of Global Health, she held executive management positions in 3 global health and development companies, and worked closely with diverse Ministries of Health, UN organizations, NGOs and private sector health. 
Diana earned both her Bachelor of Science in Zoology/Psychology and her M.D. from Duke University and completed her pediatric residency at the University of Washington, followed by an assignment at CDC as an EIS Officer. She has dedicated her career to the practice of global health in the context of LMICs, concentrating on overcoming access barriers, assuring quality and scaling up high impact, evidence-based interventions. Throughout her career, Diana has been an advocate for the special needs of the most vulnerable populations, and the integral role of community-based health workers to bridge the gap between families, communities, and the health system.
She works closely with the Education team to strengthen course offerings, mentoring and learning experiences to better prepare graduates aimed at global health practitioner careers. Diana co-leads the Duke-Pamlico County Partnership which provides experiential learning in rural health systems, research training and independent studies for global health majors and MSc students. She also provides technical and strategic input to programs at the Duke Global Health Innovation Center and Innovations in Healthcare, as well as the Center for Global Women's Health Technology.
---
Benjamin Spain, Administrative Manager, Programs
Ben provides administrative management and coordination for all Duke Global Health Innovation Center and Innovations in Healthcare business functions. Prior to joining the organizations, he was the Associate Director of Enrollment Services for the master's programs at Duke University's Nicholas School of the Environment. He is the former Assistant Director of Admissions at the University of North Carolina School of Law. Ben is returning to his passion for healthcare. Early in his career, he was the Associate Executive Director of an eastern North Carolina assisted living facility.
Ben was born in North Carolina and has mostly resided in the state throughout his life. He received his BS in Management with a minor in Health Science from Clemson University and has taken graduate courses at NC State University.
---
Judd Staples, Assistant Director, Engagement and Partnerships
Judd is the Assistant Director, Engagement and Partnerships. In his role, he works with our partner organizations to identify opportunities to combine resources and bring them to bear on important global health challenges. Judd brings more than 20 years of business development and innovation management experience to IiH. Prior to IiH, Judd was Director of New Venture Development for the Duke Innovation & Entrepreneurship Initiative where he worked with faculty, students and university partners to build and improve programs that foster innovation and enable the translation of important new discoveries into the service of society. Judd is also an entrepreneur, himself. In 2010, he co-founded CancerGuide Diagnostics, a life science company focused on development and commercialization of novel molecular diagnostic assays that enable oncologists and their patients to make individualized treatment decisions.
Judd received a BS in mechanical engineering from Duke University, an MS from Georgia Tech, and an MBA from Duke's Fuqua School of Business, where he was a Thomas Keller Scholar.
---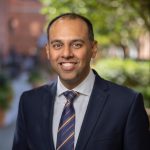 Krishna Udayakumar, Executive Director
Krishna Udayakumar, MD, is the founding Director of the Global Health Innovation Center, which is focused on generating deeper evidence and support for the study, scaling, and adaptation of health innovations and policy reforms globally. He is also Executive Director of Innovations in Healthcare, a non-profit co-founded by Duke University, McKinsey & Company, and the World Economic Forum, where he leads the organization's work to curate and scale the impact of transformative health solutions globally.
Krishna is an Associate Professor of Global Health and Medicine at Duke University and an Associate Professor at Duke-NUS Medical School Singapore. His work has been published in leading academic journals such as the New England Journal of Medicine, Health Affairs, and Academic Medicine.
Born in Bangalore, India, Krishna spent his childhood in Virginia and is a Phi Beta Kappa graduate of the University of Virginia, where he earned a bachelor's degree with distinction in interdisciplinary studies. He received both an MD and an MBA (with a concentration in Health Sector Management) from Duke University, where he was a Fuqua Scholar. Krishna completed his residency in internal medicine at Duke and served as Assistant Chief Resident at the Durham VA Medical Center before joining the faculty of Duke University.
---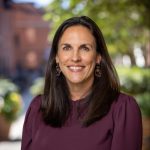 Elina Urli Hodges, Assistant Director, Programs
As an Assistant Director of Programs for the Global Health Innovation Center and Innovations in Healthcare, Elina oversees a portfolio of programs that aim to increase access to health in low- and middle-income countries. She recently co-developed an impact measurement framework for pharmaceutical industry-led access to medicine programs. Elina also directs a project, supported by the Bill & Melinda Gates Foundation, that aims to identify key drivers behind uptake of life-saving global health interventions. Her project experience has taken her to Kazakhstan, China, India, and Kenya.
Prior to joining Duke University, Elina worked for more than a decade on non-communicable disease prevention, population health, and global workplace health promotion projects with U.S. government institutions (CDC and Department of Defense), multinational corporations, and health systems. She began her career in health working in the national advocacy office of the American Heart Association in Washington, DC. Elina received a Bachelor of Arts degree in Foreign Affairs and French from the University of Virginia and a Master of Science in Public Health with a concentration in Health Policy and Management from the University of North Carolina at Chapel Hill.