Reflections following the United Nations General Assembly.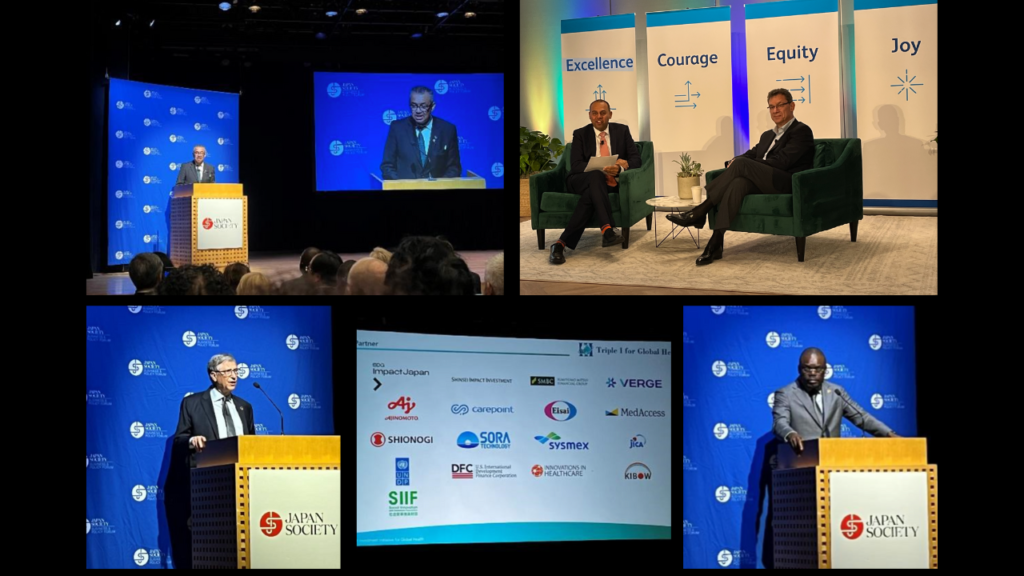 Health is an investment, not an expense.
The 78th session of the United Nations General Assembly (UNGA 78) focused on "Rebuilding trust and reigniting global solidarity: Accelerating action on the 2030 Agenda and its Sustainable Development Goals towards peace, prosperity, progress and sustainability for all."
UNGA78 brought world leaders to New York City, USA in September 2023 to discuss pressing global health challenges. The event featured three high-level meetings on health, addressing:
Pandemic prevention, preparedness, and response;
Tuberculosis; and,
Universal health coverage (UHC).
Members of the Duke Global Health Innovation Center (Duke GHIC) and Innovations in Healthcare (IiH) were honored to attend and participate in several side events. This blog explores highlights from the various sessions our team participated in.
Leading with Purpose
Founding Director of Duke GHIC and IiH, Krishna Udayakumar, joined Pfizer CEO, Albert Bourla, at the UNGA78 side event focused on leading with purpose. The event convened the next generation of leaders in global health, including early career professionals and graduate students in public health and global health. Key takeaways include:
Health is a major issue for everyone. The time is now to act and drive change.
Leading with purpose gives you inspiration to do more.
We must have the courage to set high goals and reward those that can achieve them.
Young leaders need to aim high. To do so, they need senior leaders and mentors that will help them to take risks.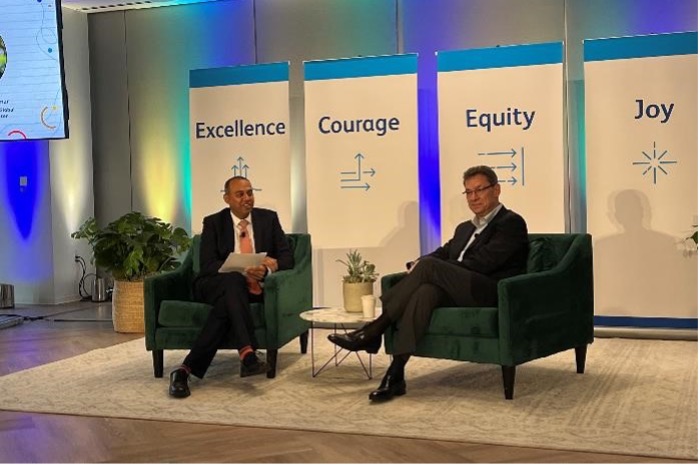 Albert Bourla concluded the session with advice to future generations in leading with purpose: "be ambitious, not self-centered. Be humble. And set the bar high. As Aristotle says, "our problem is not that we are aiming too high and miss. Our problem is that we are aiming too low and hit. This creates the false impression of success." You need leaders to lead the ambition and set the bar high. Try and try until you get over the bar — then when you do, set it even higher."
Triple I for Global Health Initiative Launch Event
The Triple I for Global Health Initiative was launched at the UNGA78 side event titled "Toward more Resilient, Equitable and Sustainable Universal Health Coverage by 2030."  In his opening remarks, H.E. Mr. Fumio Kishida, Prime Minister of Japan, announced the launch of the initiative and encouraged investors, private companies, and organizations to get involved.
Innovations in Healthcare is a proud founding partner of the initiative which aims to enhance the understanding of impact investment by:
Raising awareness of impact investment in global health by showcasing best practices;
Increasing transparency of impact investment in global health by promoting discussions and building up expertise on measurement, verification, and disclosure; and,
Increasing investment opportunities in global health by facilitating networking and knowledge exchange as well as identifying the thematic opportunities.

The American College of Cardiology Panel
The UNGA78 side event, "Enhancing the Health Workforce Through Innovation," gathered speakers and panelists from leading worldwide nonprofits, non-governmental organizations, and government entities with the following objectives:
Illustrate that health coverage alone does not guarantee access to care and highlight the necessity of the health workforce;
Share how technology is supporting global health workforce training;
Highlight case studies of successful implementation of technology at the front lines of care delivery; and,
Provide policy makers with concrete ideas of how workforce issues can be addressed through task shifting, training, and supportive technology.
UNGA78 served as a platform for world leaders to address the most pressing global health issues. The outcomes and commitments made during UNGA78 will play a pivotal role in building a healthier future for all.
A Glimpse into the 78th Session of the United Nations General Assembly