April 5, 2023: COVID GAP Accountability Report Issue 23
Key Changes and Insights Since Previous Report:
India reported over 3,600 new COVID-19 cases on April 3rd. This represents the largest single day increase in new cases in over 6 months.
The World Health Organization is monitoring the XBB.1.16 subvariant that is currently circulating in India.
The European Medicines Agency (EMA) and the Committee for Medicinal Products for Human Use (CHMP) have authorized the use of Bimervax as a COVID-19 booster vaccine. Bimervax is a bivalent, recombinant protein vaccine.
South Korea plans to start using wastewater surveillance to monitor the spread of COVID-19 in the country.
The health systems and response pillar of ACT-A has received $10 million in additional funding, and is now 35.9% funded.
Botswana has achieved 70% vaccination coverage.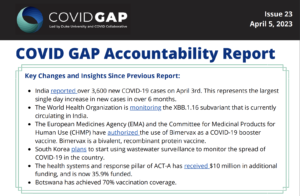 ---
The Duke Global Health Innovation Center is a proud partner of the COVID Global Accountability Platform (COVID GAP).  COVID GAP's Accountability Reports highlight and analyze recent developments, track progress toward national, regional, and global targets, and identify high-priority recommendations for a more effective, efficient, and equitable pandemic response and preparedness. Drawing on data across many sources, our team tracks important measures of progress on commitments and remaining gaps, helping to hold leaders and organizations to account on these actions.
COVID GAP Accountability Report, Issue 23