January 5, 2023: COVID GAP Accountability Report Issue 17
Key Changes and Insights Since Previous Report:
China has rolled back its zero-COVID policies, and there is a lack of accurate data available regarding COVID deaths or circulating variants. Airfinity's model predicts there will be 1.7 million deaths by the end of April 2023.
Amidst the COVID-19 surge in China, several countries have implemented travel requirements for travelers coming from China. The U.S. and U.K. are requiring pre-flight COVID tests while Morocco is implementing a full entry ban.
Singapore announced a pledge of USD $1 million to the Global Fund.
Nigeria is reporting 65.98% vaccination coverage of their 60+ population which is an increase from 56.49% two weeks ago.
The Democratic Republic of the Congo is reporting 81.92% vaccination coverage of their healthcare worker population which is an increase from 59.31% two weeks ago.
The average daily testing rates have decreased across all income groups.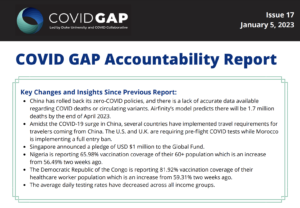 ---
The Duke Global Health Innovation Center is a proud partner of the COVID Global Accountability Platform (COVID GAP).  COVID GAP's Accountability Reports highlight and analyze recent developments, track progress toward national, regional, and global targets, and identify high-priority recommendations for a more effective, efficient, and equitable pandemic response and preparedness. Drawing on data across many sources, our team tracks important measures of progress on commitments and remaining gaps, helping to hold leaders and organizations to account on these actions.
COVID GAP Accountability Report, Issue 17