The Global Accountability Platform (COVID GAP) blog series.
September 15, 2022
By Nellie Bristol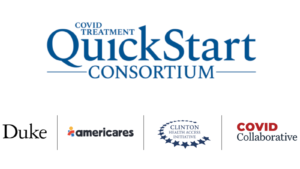 Ten countries in sub-Saharan Africa and Southeast Asia will partner with a new public-private collaboration to scale up COVID-19 test and treat operations for high risk populations, the COVID Treatment Quick Start Consortium announced September 7. Working with an initial donation of 100,000 doses of Paxlovid from Pfizer, the consortium aims to integrate the program into long term systems that will offer a range of antivirals, including generic versions as they become available.
When administered within five days of symptom onset, Paxlovid has been shown to significantly reduce hospitalization rates and deaths from COVID among patients 65 and older, regardless of vaccine status or prior infection. Older individuals, along with health workers, the immunocompromised, and those with preexisting conditions, are most likely to suffer adverse outcomes from COVID infections. Quick Start implementing partners include Duke University, the Clinton Health Access Initiative (CHAI), COVID Collaborative, and Americares, with support from the Open Society Foundations, Pfizer, and the Conrad N. Hilton Foundation. The consortium expects treatment to be available as early as this month.
As with many critical pandemic-related supplies, access to COVID diagnostics and therapeutics has been low to nonexistent in many settings. The ten countries, Ghana, Kenya, Laos, Malawi, Nigeria, Rwanda, South Africa, Uganda, Zambia, and Zimbabwe, range from low income to middle income status but only Laos and Rwanda have met the 70% vaccination target set by the World Health Organization. Kenya, Malawi, and Nigeria all have rates of less than 20%. Vaccination of health workers and the over 60 population is similarly low, reported at 25% for Malawi, 24% for Kenya, 11% for Nigeria, and 10% for Zambia. Access to test and treat mechanisms will give high risk individuals in lower resource settings another option for protecting themselves against the disease.
"We are eager to continue the fight against COVID-19 pandemic and make sure it does not become entrenched in our society," said Professor Claude Muvunyi, Director General of the Rwanda Biomedical Center. "The Quick Start Consortium will help us to continue to build and strengthen a resilient health care system, quickly find the patients who need treatment and make sure they get needed medicines—regardless of socio-economic status."
CHAI will take the lead in providing technical assistance to countries as it has a long standing presence in the countries selected for the initial phase of the program. "This program will provide governments with the catalytic access to the drugs and technical assistance they need to quickly scale up testing and treatment to reach those who need them most," said Sean Regan, COVID-19 therapeutics coordinator for CHAI. Specifically, CHAI will work on drug registration, updating clinical guidelines, and sharing relevant scientific data. It also will support the governments in developing training plans and materials for health care providers as they integrate the drugs into existing systems. While the goal is to kick start access to testing and treatment, the consortium aims to aid governments in developing long term procurement plans to ensure COVID countermeasures are sustainably available, including through the Global Fund.
As part of working toward expanded access to antivirals, the consortium is establishing a learning network to enable countries to share experiences and best practices and working to facilitate market entry for low cost quality assured generics. "By developing and sharing learnings in near-real time we hope to catalyze and inform additional country programs and population-level scale-up," said Gary Edson, President of the COVID Collaborative.
---
GAP). The COVID GAP blog aims to provide thoughtful, timely analysis and insights on important news and developments, guided by our ongoing research, analysis, and stakeholder engagement.
Return to the Duke Global Health Innovation Center blog series.
Visit the Innovations in Healthcare blog series.
Public-Private Consortium Jump-Starts COVID Treatment Access in Ten Countries