The Global Accountability Platform (COVID GAP) blog series.
August 11, 2022
By Katharine Olson and Nellie Bristol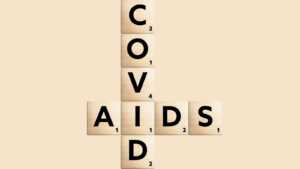 COVID-19 has disrupted clinical care and supply chains throughout the world, testing the resilience and flexibility of health systems everywhere. Services for those living with HIV/AIDS are no exception. UNAIDS' "In Danger" report, released last week at the 24th International AIDS Conference (AIDS 2022), highlighted the devastating impacts the "multiple and overlapping" crises of the last two years have had on people living with and affected by HIV. New data included in the report show shrinking resources and growing inequalities that could result in millions of new infections and AIDS-related deaths if the current course is not reversed.
Galvanized by the dire projections and using the lessons and innovations fostered by the pandemic itself, conference participants, including people living with HIV, researchers, clinicians, and funders, presented new developments in prevention, testing, treatment, and creative ways to bring communities together. In one example, taking advantage of the wide acceptance and feasibility of COVID self-testing, Wondfo announced that its HIV self-test would now be available for $1 USD. The move is aimed at expanding access to HIV testing and could encourage development of self-test kits for other diseases. Self-testing can reach groups that may not have access to formal health care settings while also serving as an entry point for other HIV prevention services. Ensuring linkages to care will be critical as self-testing availability increases.
The pandemic also paved the way for a shift toward increased use of digital tools and telemedicine. Chatbots, computer programs that mimic written speech, can provide on-demand information and health education as well as instructions on how to use and access self-test kits and conduct risk screening assessments, and furnish links to health services for COVID-19, HIV, and other diseases.  They also can collect key indicators and can be integrated into platforms such as DHIS2, a global open-source health information system. Several HIV and COVID-19 chatbots were featured at AIDS 2022, showcasing how mobile health applications can expand access to knowledge and services without increasing the burden on health personnel.
The conference also highlighted COVID lessons related to community involvement and integration of health services. The pandemic demonstrated the importance of community participation and buy-in in effective pandemic control. Along with building more resilient health systems, preparedness requires engendering adaptable communities to mitigate the impact of future pandemics. Response to any outbreak hinges on empowering and prioritizing community organizations and providing them with a platform to advocate effectively to their national governments. Additionally, the simultaneous pandemics of HIV/AIDS, COVID-19, and now monkeypox, highlight the need for integrated health services. All pandemics require surveillance, diagnostics and testing, an adequate health care workforce, vaccines, and treatment based on solid primary health care systems.  The conference emphasized the need to strengthen and adapt existing resources and assets to effectively respond to pandemics, particularly in limited resource settings.
While providing a major setback to progress against the HIV/AIDS pandemic, COVID-19 also offers critical guidance for effective disease prevention and control. AIDS 2022 highlighted the importance of testing and care innovations, resilient communities, and integrated health systems that can be applied to a range of health emergencies. Heeding these lessons and ensuring effective approaches are adopted widely and equitably is essential both to reinvigorate the global HIV/AIDS response and to prepare for future health challenges.
---
The Duke Global Health Innovation Center is a proud partner of the COVID Global Accountability Platform (COVID GAP). The COVID GAP blog aims to provide thoughtful, timely analysis and insights on important news and developments, guided by our ongoing research, analysis, and stakeholder engagement.
Return to the Duke Global Health Innovation Center blog series.
Visit the Innovations in Healthcare blog series.
AIDS 2022 Highlights COVID's Disruptions, Innovations