The Global Accountability Platform (COVID GAP) blog series.
April 21, 2022
By Nellie Bristol
We are at a crucial turning point in the COVID-19 pandemic. In the aftermath of Omicron, many countries are more than ready to transition out of the emergency phase of the pandemic – particularly wealthy countries where vaccines, therapeutics and tests are readily available. But for many low- and middle-income countries, large portions of their populations remain vulnerable to severe illness and death from COVID-19.
Unfortunately, the familiar mantra "no one is safe anywhere until everyone is safe everywhere" is losing its power as a motivator to support the global response to the pandemic. High-income countries are moving on and turning their attention to other domestic and geopolitical issues. Meanwhile, poorer countries are being left behind without the tools or capacity needed to control the virus and the efforts to support them are severely underfunded.
ACT-A Pillars Struggle to Raise Funds
The ACT Accelerator (ACT-A), a global partnership to ensure equitable access to COVID-19 technologies, has only raised a small fraction of its 2021-2022 budget even as it passes the midpoint of the funding year. The four pillars of the program have received varying amounts of contributions, but even the highest funded pillar, vaccines, has only raised 15% of the budget goal. There is even less funding to start test to treat strategies, a critical component of moving into a sustainable control strategy of the pandemic. The diagnostics pillar has received no funding at all and the therapeutics pillar, which includes oxygen, is only 4% funded. Without funding, ACT-A is limited in its ability to procure products from manufacturers or offer support to low- and middle-income countries for rolling them out.
Figure 1. Donor country funding committed versus requested for ACT-A (2021-2022)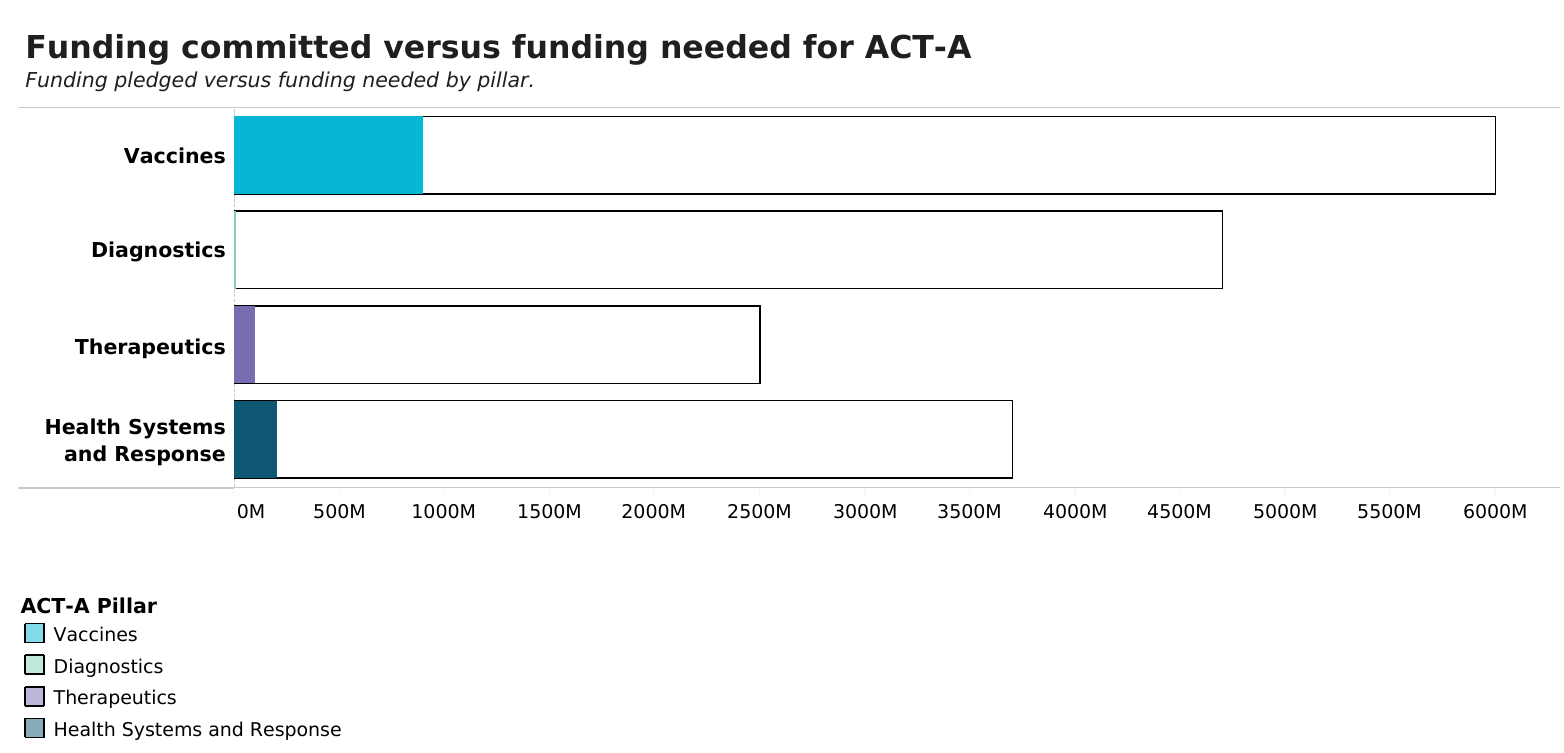 Fundraising Events Fall Short of Goals
In the past, the global response has been most successful at raising funds around major meetings or fundraising events. As attention and political will for the global response has begun to wane, so has the success of such events. In March, the UK hosted the Global Pandemic Preparedness Summit to raise funds for CEPI's 100 Days Mission with goal of raising $3.5 billion. Less than half of this amount was raised ($1.5 billion). In early April, Germany, Indonesia, Senegal, and Ghana co-hosted the Break COVID Now Summit to raise funds for Gavi COVAX Advance Market Commitment (AMC). Of the $5.2 billion ask, to support purchase and delivery of vaccines and in-country capacity support for vaccinations, up to $4.8 billion has so far been committed. However, only $1.7 billion of this is coming from donor countries. Up to $2.1 billion is committed by financing facilities, which will "front-load" financing, and another $1 billion will be provided by multilateral development banks. The dwindling funding from donors for the COVID-19 response is a worrying trend.
Next, attention will turn to the Second Global COVID-19 Summit co-hosted by the United States, Senegal, Germany, Indonesia, and Belize on May 12. Ahead of the virtual event, the Summit organizers have set a number of commitment goals for countries and donors around the world. Included in these commitment goals are fundraising targets for vaccines and therapeutics and oxygen – $10 billion and $3 billion, respectively. The Global Summit will be a true test of the remaining appetite and resolve to support the global pandemic response and build resilient health systems for the future. Especially as upcoming fundraising events for other global health priorities, such as the replenishments for the Global Fund for AIDS, Tuberculosis, and Malaria and the Global Polio Eradication Initiative will soon be seeking funding from donors as well.
US-Supported Global Efforts in Jeopardy
The United States has long been one of the largest global health donors and has played crucial role in supporting the global COVID-19 response. In 2021, it established the Global VAX initiative to help deliver and administer hundreds of millions of COVID-19 shots in low- and middle-income countries. But now, the program is running out of money. Congress has to date not acted on approving additional supplemental funding, despite a formal request from the administration on March 2 for $5 billion to support global needs, and there appears to be no imminent action for such additional funding for the global response. This means no additional funding for Global VAX to deliver on its promises to provide vaccines and help save lives.
Without additional funding for the global response, this also means there is little money to support test and treat strategies in low- and middle-income countries – a crucial component of shifting to a sustainable control response for COVID-19. In our recent report on access to oral therapeutics, we called on the US government to take specific actions to support access to treatment and support test and treat programs by leveraging existing programs such as PEPFAR and PMI. Without support in Congress for the global response or global health efforts, government officials in USAID and other agencies are unable to take those needed actions.
Rebuilding the Case for the Global Response
As attention is swiftly turning away from COVID-19 – with growing pandemic fatigue, complacency, and competing needs and priorities – it is imperative that we rebuild and emphasize the evidence-based case for decision makers on why it is imperative to continue supporting the global COVID response. Warning about the risk of new variants is not enough. We must also underscore the need to break the connection between infection and serious illness and death, especially as emerging variants are increasingly more transmissible. The WHO recently estimated excess mortality figures that show much higher mortality rates form COVID-19 in low- and middle-income countries than previously reported. We know how to stop this though. We have the tools we need to bring COVID-19 to heel, but without funding for global access and investment in building health system capacities we will continue to see unacceptable numbers of preventable deaths and stress of health systems during case surges.
An Uncertain Outlook for the Global COVID-19 Response