The Launch and Scale Speedometer blog series.
January 28, 2022
By Stephanie Stan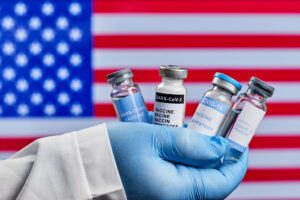 On January 26, 2022, the White House announced that the United States has shipped over 400 million COVID-19 vaccine doses. This milestone has established America as the global leader in COVID vaccine donations, shipping more donated doses than any other country. This achievement comes as the world hits its own milestone: administering 10 billion doses globally as of January 28, 2022. But as we've seen throughout the pandemic response, doing more is not the same as doing enough.  While the US is out front in its commitments and actions, no country, and no multilateral organization, is doing enough to end the pandemic.
Global vaccine inequity, exacerbated by a lack of timely actual donations rather than pledges, places strains on the limited supply of COVID vaccines in low- and middle- income countries (LMICs), especially as third doses have become recommended for some high-risk populations, despite the constrained global vaccine supply and low vaccination rates in LMICs. Global COVID cases surpassed 363 million and deaths surpassed 5.6 million, while low-income countries have achieved average full vaccination coverage of only 4%. Gaps in full vaccination coverage have created dire global need for countries to deliver on their pledged donations, especially with the spread of the highly transmissible Omicron variant.
Shipping only 34% of the 1.2 billion vaccine doses that President Biden pledged in support of the goal to fully vaccinate 70% of the world by mid-2022 may seem underwhelming. However, considering that the total donated doses shipped by the U.S. surpass the pledged doses of any other country, and that the U.S. has pledged to donate more vaccine doses than any other country, this achievement sets America and its donation efforts apart from any other nation.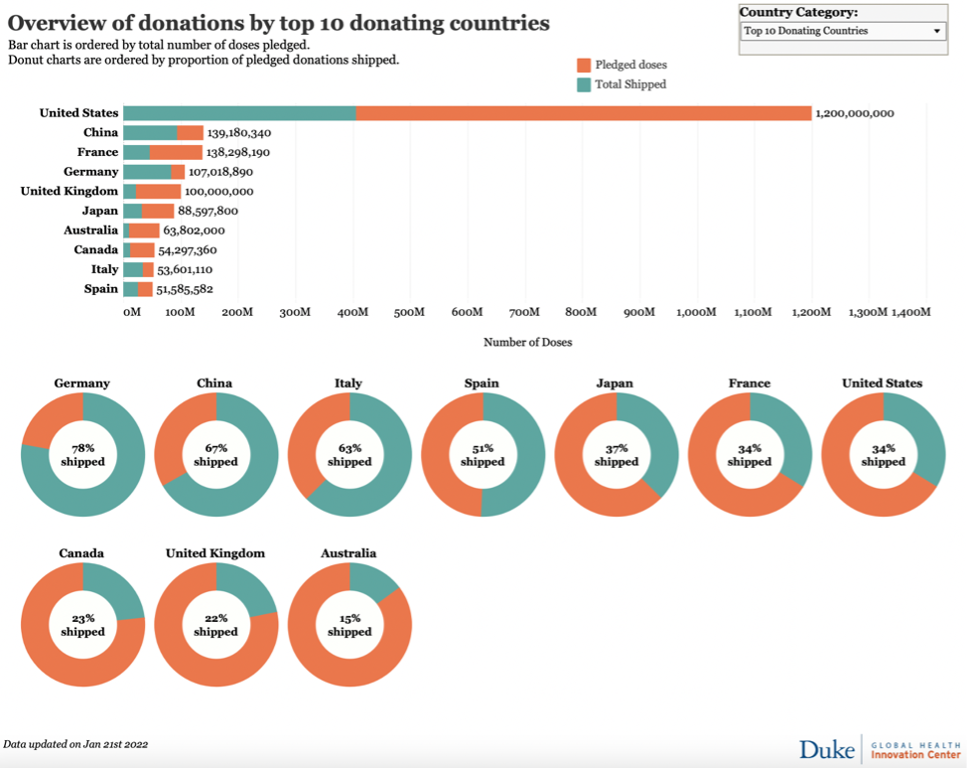 Pledged and shipped amounts of donated COVID-19 vaccines by the top 10 donating countries. Data collected by the Duke Global Health Innovation Center Launch and Scale Speedometer research team. 
Notable factors Regarding the U.S. COVID Vaccine Donations:

The U.S. has shipped donated vaccine doses to 112 countries, with the majority of U.S. donations begin shipped to Sub-Saharan Africa.
U.S. vaccine donations have been shipped through bilateral and COVAX mechanisms. As of January 26, 2022, 59% of the U.S. COVID-19 vaccine donation doses were delivered to recipient countries through COVAX, and 41% of donated doses were delivered bilaterally.
As of January 26, 2022, the U.S. has shipped 405,322,310 donated doses to recipient nations; meaning the U.S still has about 66% (about 795 million) of its 1.2 billion pledged donations doses left to ship.

Breakdown of U.S. COVID vaccine donation shipments by month from June 2021 to January 2022, based on data from the Kaiser Family Foundation
About 76.3% of the U.S. donated doses were shipped during the second half of 2021—of which 174,600,000 were shipped between October 2021 and December 2021. Shipping a majority of donated doses around the same time, rather than shipping donations in predictable, regular shipments throughout the year, risks overwhelming recipient nations and contributing to ineffective donation strategies.
The EU and its member countries are collectively the second largest donor of COVID vaccine doses—donating 353.4 million doses of 500 million doses pledged as of November 2021, of which only about 118 million doses have been delivered to recipient nations. However, unlike the U.S., which has followed through on shipping pledged doses, the EU has not committed to shipping donated doses beyond sending those doses to COVAX, after which many donated vaccines have not been delivered to receiving countries. As of December 2021, only 40%  of the EU's donated doses through COVAX were received by recipient nations. A contributor to this small percentage of delivered doses is that donations arrived in recipient countries too close to the vaccine expiration dates—15 million EU vaccine doses donated through COVAX were turned away by recipient nations in October and November 2021 due to having a shelf life of less than 10 weeks from the time the shipped doses would have been delivered. 
Recipient countries need to receive doses with ample time before they expire, so that they can store the vaccines while planning and initiating vaccine roll-out programs, especially when trying to reach and vaccinate remote, hard to reach populations. Increasingly more COVID vaccine donations will be turned away or disposed of by recipient nations unless vaccine donors and multilateral organizations get vaccines to countries in need in a more timely, predictable, and efficient manner. 
The commitment differences between the U.S. and EU for shipping vaccine donations—and the large gap between the U.S. pledged donation amounts and those of any other country—emphasize a need for further accountability of countries pledging COVID-19 vaccine donations to actually ship doses, and to do so in timely increments rather than all at once right before vaccine expiration dates. By reaching the 400 million dose donation milestone, the United States has set the stage for other nations to follow in its footsteps. Now more than ever, given the spread of the Omicron variant, it is time for other nations to uphold their donation pledges to help accelerate global vaccinations. 
Donations are necessary in the immediate term due to the surplus of COVID vaccines in high income countries amid the constrained global vaccine supply. However, donations are not long-term, sustainable solutions for LMIC vaccine access. Another concerning development is that Gavi/COVAX has run out of money and can no longer deliver and distribute donated doses without additional funding. Global actors need to work with local partners to enhance LMIC vaccination strategies that are aligned with health systems strengthening. Moving forward, in addition to vaccine donations, much more effort, resources, and support is needed to turn vaccines into vaccinations.
For more information on the Global Health Innovation Center's research on Covid-19 vaccine supply and donations, see https://launchandscalefaster.org/COVID-19.
---
The Duke Global Health Innovation Center is a proud partner of the Launch and Scale Speedometer. The Launch and Scale Speedometer aims to systematically analyze the factors that support or hinder the introduction and scaling of interventions, including but not limited to drugs, diagnostics, and devices, to address critical global health challenges.
Return to the Duke Global Health Innovation Center blog series.
Visit the Innovations in Healthcare blog series.
The US Has Donated 400 Million COVID-19 Vaccine Doses Globally, As 10 Billion Doses Are Administered Worldwide – Doing More But Not Enough