The Launch and Scale Speedometer blog series.
December 17, 2021
By Blen Biru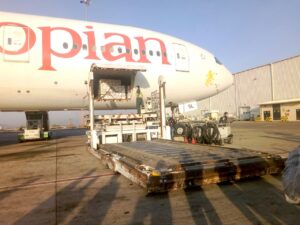 Ethiopia is the second most populous country in Africa with a population of 118 million.  The first COVID-19 case in Ethiopia was identified on March 13, 2020  but, like many African countries, Ethiopia had relatively low reported cases and deaths during the first wave of infections compared with other parts of the world. However, in December 2020, a larger second wave brought increased level of infections and deaths, due to a combination of factors including lower adherence to stringent public health measures. Since August 2021, Ethiopia has been experiencing a third wave of infections, recording close to 300 deaths weekly and a test positive rate of 10-20% although cases have declined in November and December. The high positivity rate suggests that the likelihood of many more infections happening beyond those diagnosed via testing.
Factors such as re-opening of schools and other public institutions, and the ongoing conflict, are exacerbating the spread of COVID-19 throughout Ethiopia, at a time when there are growing concerns about the rapid global spread of the Omicron variant (still not formally confirmed to be present in Ethiopia). Despite the increase in infections and deaths, studies show that most people are experiencing pandemic fatigue, and consequently, prevention measures such as wearing face masks are coming down.
Given this increase in cases, it's a critical time for Ethiopia to focus on layered public health measures, including vaccination efforts.
Ethiopia has an established standard immunization system that is experienced with handling previous mass vaccination efforts and routine immunization. The country is building off of the existing system which could serve as a facilitator to administer COVID-19 vaccines. However, the country so far has only fully vaccinated 3% of its population, with ~6% having received at least one dose.
Not Enough Supply 
One of the primary challenges that the country is currently facing is availability of vaccines. So far, Ethiopia has received close to 8.5 million doses through the COVAX mechanism, 108,000 doses from African Vaccine Acquisition Trust (AVAT) and 1.7 M doses through bilateral donations from China. These supplies of vaccinations are a modest start towards increasing access in Ethiopia and will only fully cover 5.5 million people, less than 5% of the population. In addition, the unpredictability of deliveries creates challenges in allocation and reaching priority groups. It is important that there is an increased and predictable flow of vaccine supply from COVAX, AVAT, and donating countries so that Ethiopian leaders can plan an effective administration strategy.
Conflict and Hesitancy Create Significant Barriers 
In addition to Ethiopia having limited supply of vaccines, the country faces challenges related to vaccine hesitancy. A study conducted in the capital city, Addis Ababa found that many people have doubts about the COVID-19 vaccines mainly due to concerns related to vaccine efficacy. The availability of multiple vaccine products, coupled with rampant misinformation and misleading reports of side effects, has created confusion. On the contrary, another study found high vaccine acceptance rate in sub-Saharan Africa including Ethiopia. This conflicting information calls for a more rigorous and systematic tracking of vaccine confidence and hesitancy to generate better evidence that enables deeper understanding of the issue which will become even more important over the coming months as supply increases.
The current political climate, including the ongoing conflict and the recently declared state of emergency, adds additional challenges. Administering vaccines among those in the conflict region and those displaced due to the conflict adds an additional layer of challenge. It's imperative that stability in affected regions is restored to curb infections and facilitate vaccine administration.
Ethiopia has a long way to go in order to meet the government's goal of 80% vaccination by the end of 2023 and WHO's goal of 40% vaccination by the end of 2021. It's necessary that local and global efforts are combined to achieve the set threshold. Global and regional stakeholders such as COVAX, AVAT donors, manufacturers and local government should work towards addressing lack of supply, predictability of deliveries, vaccine administration on the ground and other challenges discussed above. Locally, in addition to the government, it's important to involve community leaders such as religious institutions to promote vaccination given their influence in the society to address issues such as vaccine hesitancy.
Acknowledgements: we are grateful to the following individuals who provided valuable insights and perspectives on the issues addressed in this document: Yakob Ahmed, Bereket Yakob, Yohannes Lakew, and Kidist Belete. This post doesn't necessarily reflect the personal positions of any of these individuals.
---
The Duke Global Health Innovation Center is a proud partner of the Launch and Scale Speedometer. The Launch and Scale Speedometer aims to systematically analyze the factors that support or hinder the introduction and scaling of interventions, including but not limited to drugs, diagnostics, and devices, to address critical global health challenges.
Return to the Duke Global Health Innovation Center blog series.
Visit the Innovations in Healthcare blog series.
COVID Vaccine Research Update