WEEKLY COVID VACCINE RESEARCH UPDATE
Saturday, September 11, 2021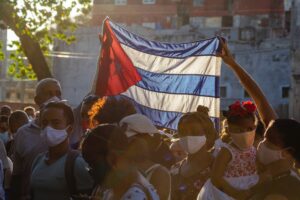 | | Confirmed Vaccine Purchases | Confirmed Donations (by recipient, includes pledges) |
| --- | --- | --- |
| High income countries | 6.9 B | 6.5 B |
| Upper  middle income countries | 2.5 B | 54 M |
| Lower middle income countries | 2.6 B | 64 M |
| Low income countries | 238 M | 63 M |
| COVAX | 2.5 B | 741 M |
| WORLDWIDE TOTALS | 14.8 B | 927 M |
INSIGHTS
Will Cuba's home-grown vaccine strategy pay off?
Author: Blen Biru
Cuba has become the leader of COVID-19 vaccine development in Latin America – producing a total of five vaccine candidates so far, four of which are awaiting submission to WHO's Emergency Use Listing Procedure (EUL). All of the vaccines have names that express Cubans' pride in developing successful home-grown vaccines as a small nation: Abdala (named after a patriotic poem), Soberana 1 (meaning "sovereign"), Soberana 2, Soberana Plus, and Mambisa (named after independence fighters in the 19th century). These vaccines are game-changing for Cuba and have the potential to address vaccine equity in Latin America and rest of the world if approval is received by the Pan American Health Organization (PAHO) and WHO.
The two most promising vaccines with high rates of efficacy are the 3-dose Abdala (92% efficacy) and 2-dose Soberana 2 (62% efficacy, reportedly increased to 91% when combined with a booster of Soberana Plus). Cuba started inoculating its citizens with these vaccines even prior to regulatory approval (at-risk population in March 2021 and mass vaccination in May 2021).
The protein-subunit technology that all five Cuban COVID-19 vaccines use is different from the other COVID-19 vaccines on the market so far, which mainly use mRNA, viral vector, or inactivated vaccine platforms. (There are several other protein subunit vaccine candidates expected to come to market soon, including from Novavax, Bio E, Sanofi-GSK, and Vaxxinity.) Protein subunit vaccines are generally cheaper to manufacture and don't require extreme refrigeration, which makes them more suitable for resource limited settings than mRNA vaccines like Pfizer-BioNTech's Comirnaty.
Cuba is committed to only using home-grown vaccines, building on its well-established routine vaccination technology and infrastructure, and has not joined the COVAX initiative or shown interest in making bilateral deals. The country's initial plan to inoculate 70% percent of its population by end of August 2021 and its whole population by the end of 2021 would have made Cuba the only country in the world to inoculate its population with just home-grown vaccines.
However, the country hasn't met its 70% goal for the summer (with 41% of its population fully vaccinated so far), and has welcomed imports of the Sinopharm vaccine to curb the rising infections on the island. There has been no official communication to explain the slower-than-expected vaccine rollout but it is most likely due to local production delays. Cuba's recent openness to imported vaccines demonstrates the difficulty faced by countries trying to address the pandemic in isolation and the importance of global collaboration.
Beyond Cuba, Venezuela has also started administering the Abdala vaccine to its citizens. Soberana 2 and Abdala are being tested in clinical trials in countries such as Iran and Mexico. Cuba also plans to transfer manufacturing technology to countries such as Argentina and Vietnam, potentially setting up a global network of manufacturing that could help supply vaccines to Latin America and Asia.
The Cuban government approved vaccination for youth (ages 12+) at the beginning of September and earlier this week became the first country in the world to vaccinate children under the age of six, following clinical trials of Soberana and Abdala vaccines on minors. A rigorous scientific peer review and WHO Emergency Use Listing are still pending, however. If Cuba manages to obtain those in a timely manner, these vaccines could perhaps go a long way in curbing the pandemic in Cuba and other countries in the world.
INTERESTING TRENDS

Significant updates, news, and trends we saw this week:
For more information on our research on Covid-19 vaccine supply, please see https://launchandscalefaster.org/COVID-19.
Will Cuba's Home-Grown Vaccine Strategy Pay Off?