WEEKLY COVID VACCINE RESEARCH UPDATE
Friday, July 9, 2021
---
| | |
| --- | --- |
| High-income country confirmed dose total: | 6.2 billion |
| Upper-middle-income country total: | 2.3 billion |
| Lower-middle-income country total: | 1.9 billion |
| Low-income country total: | 306 million |
| COVAX total: | 3.1 billion |
| Total worldwide confirmed purchases of Covid-19 vaccines: | 12.9 billion doses |
---
INSIGHTS
Taking a closer look at vaccine exports
Author: Joslin Coggan
Many countries in Africa, Asia, and Latin America have yet to receive the vaccines necessary to slow the spread of Covid-19 despite recent purchase and donation agreements. In recent weeks, large scale donations of Covid-19 vaccines have made headlines as the US and EU promised to send hundreds of millions of doses to low- and middle-income countries (LMICs). However, many of these deals are yet to be realized as exports have not matched demand. Supply and production speed have limited vaccine exports in recent months. Manufacturing capacity is increasing rapidly, and additional challenges including logistics and country-level regulatory authorizations have been cited as barriers to distribution.
Prior to the G7 Summit in June, the majority of vaccine exports came from the EU, China, India, and Russia. We have identified comprehensive export data only for China and India.  India was one of the leading vaccine manufacturers with the Serum Institute of India's production of the AstraZeneca vaccine. India had exported more than 66 million doses globally through COVAX, independent purchase agreements, and donations by mid-April 2021, and many of the doses produced were going to LMICs in Africa, Asia, and Latin America. After the devastating second wave of Covid-19 overwhelmed the Indian health system, India significantly curtailed vaccine exports, and the country will most likely not resume significant exporting of vaccines in 2021. The halt of Indian vaccine exports is a major concern for many LMICs who were counting on Novavax and the AstraZeneca doses through COVAX or bilateral agreements.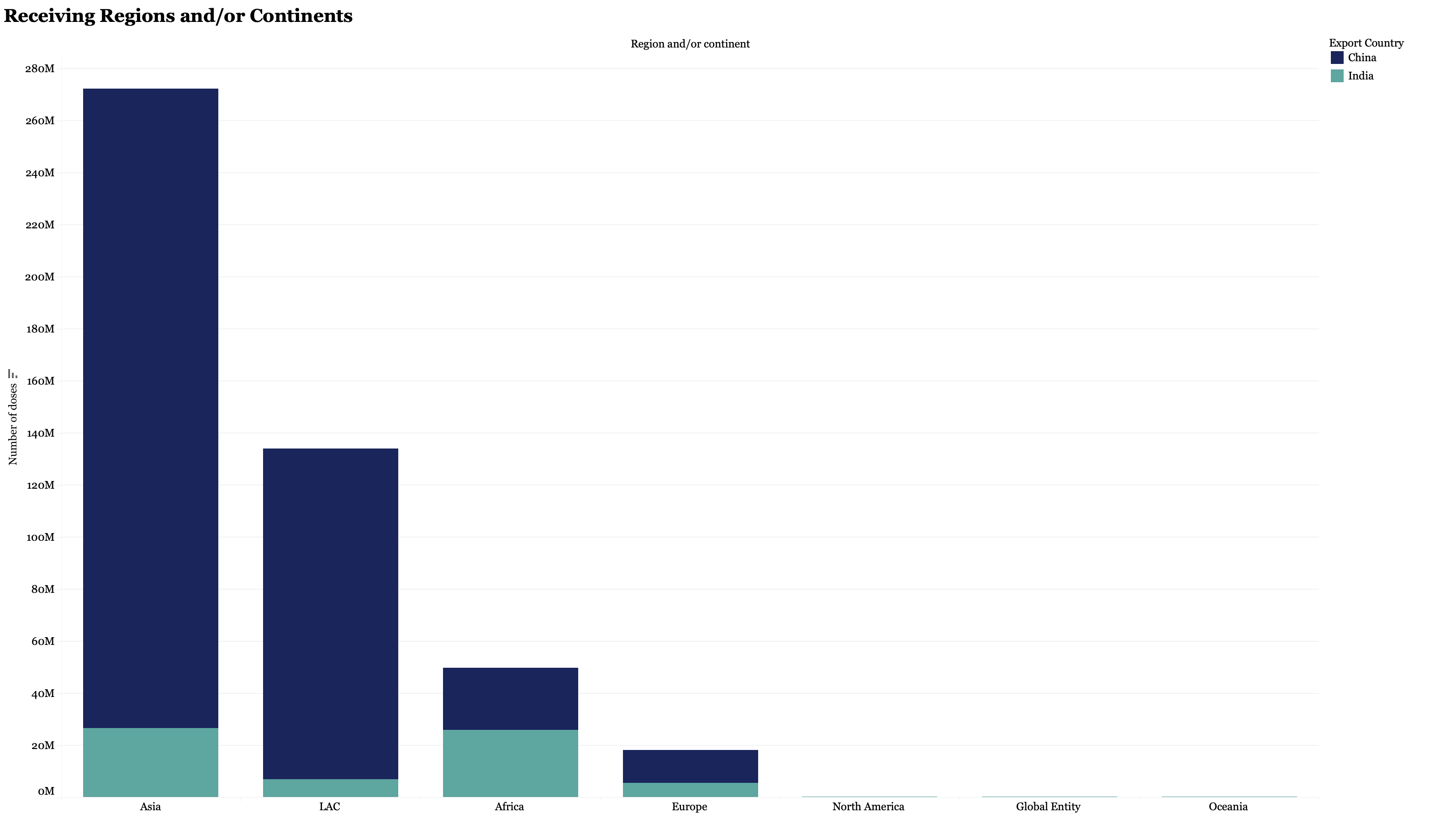 China and the EU have exported a similar number of vaccine doses at more than 350 million each, though the latest data we were able to identify for the EU was May 6, so the EU total has likely grown substantially since. To date, China has recorded more than 400 million delivered doses worldwide, primarily of the Sinopharm and Sinovac vaccines. China began ramping up vaccine exports in the early months of 2021vaccines (please see figure 2), the numbers being exported are still insufficient to fully vaccinate a high proportion of the population and many countries have only received partial fulfillment of their orders. Additionally, China has yet to contribute vaccines to COVAX, which many LMICs are relying upon to receive doses. Sinopharm and Sinovac have both received Emergency Use Listing (EUL) from the WHO, which makes them eligible for purchase by COVAX and Gavi.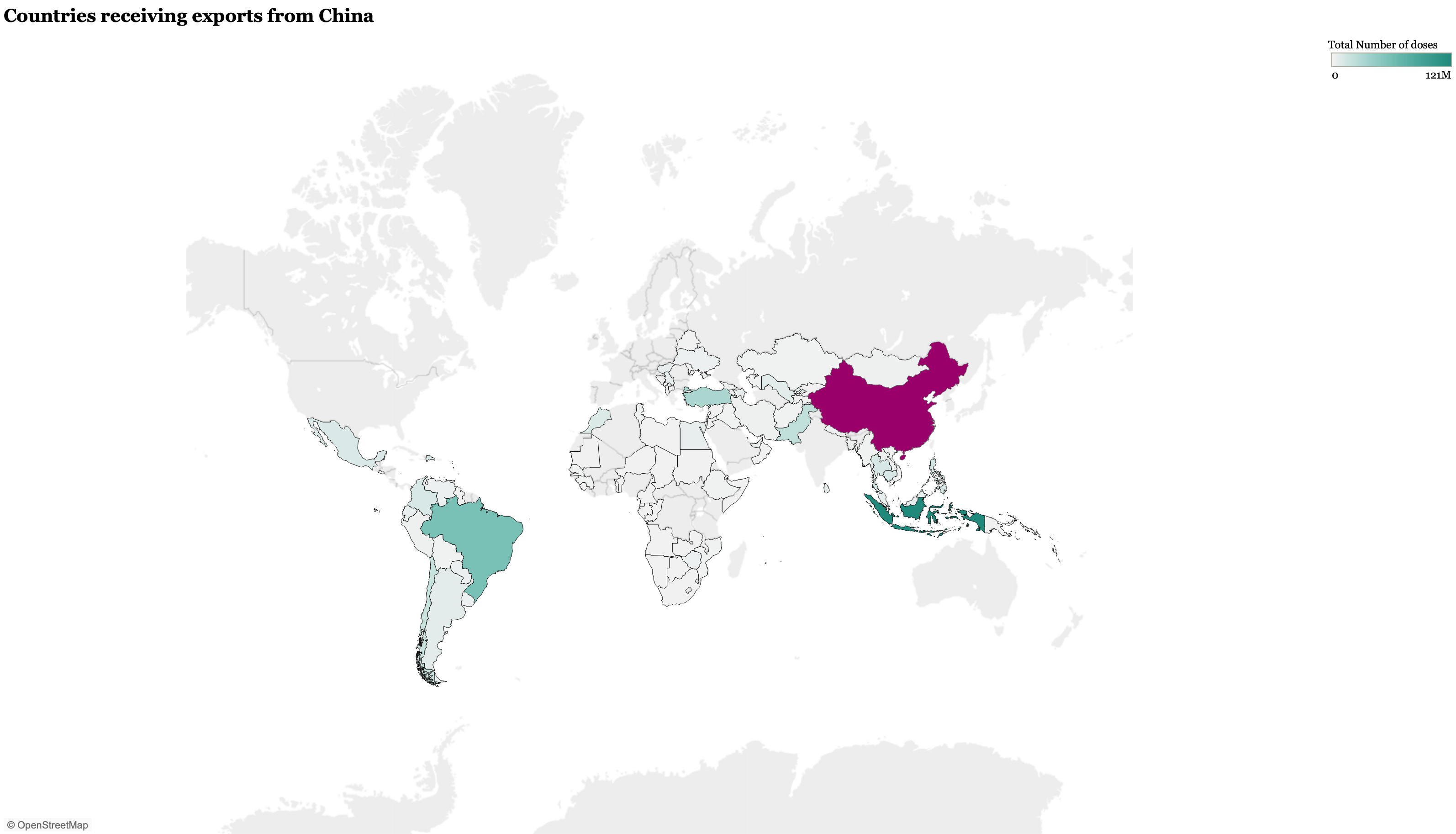 The EU ranks next in line, after China, in the number of exported doses. On May 6th, Ursula von der Leyen, President of the European Commission, tweeted that the EU was at the forefront of the world in deliveries with more than 350 million doses delivered globally. However, many of the vaccines exported from the EU have been distributed to upper- and middle-income countries despite the drastic need for vaccines in other parts of the world. As of April 2021, over half of the doses exported from the EU went to the UK, Canada, and Japan. The European Commission does not regularly release updated numbers of vaccine exports. The US has now pledged to donate more than 500 million vaccines, but still lags behind in terms of exported doses and only recently began exporting vaccines globally. By mid-May, the US had reported exporting only three million COVID doses globally. Export speed has begun to increase, but the US is still falling short of its goals. US President Biden stated the US would export 80 million donated doses by the end of June 2021, but only 24 million doses were actually shipped to ten countries. On July 1st, a press briefing by the White House COVID-19 Response Team confirmed 40 million doses would be delivered by the end of the week. The US government has blamed the delay on legal barriers and challenges with supply chains and of the population. None of the reported countries to have received donated vaccines from the US so far are in Africa, where many countries still have fully vaccinated less than 1% of the population.
Reliable export data from the US and EU have been difficult to come by. Beyond a few numbers included in the occasional tweet, the EU last posted Covid-19 vaccine export data in March 2021. The White House has released a list of the countries which have received the first deliveries of the donated doses, and additional export numbers will most likely not be released until the deliveries are shipped. Accurate, consistently updated information on vaccine exports from the US and EU, both major hubs of vaccine production, is critical at this stage in the pandemic. While purchase deals and donation pledges are an important step in vaccine procurement, these can only help to reduce the spread of the virus when doses have been received and distributed. Currently, the majority of exports are still going to high-income countries, which already have large vaccine supplies, while countries in Africa and parts of Asia and Latin America are struggling with high disease burden and a severe shortage of doses. Our focus now must be delivery and distribution. Increasing exports of COVID-19 vaccines to LMICs is crucial for reducing the threat posed by future waves of the pandemic.
INTERESTING TRENDS

Significant updates, news, and trends we saw last week:
For more information on our research on Covid-19 vaccine supply, please see https://launchandscalefaster.org/COVID-19.
TAKING A CLOSER LOOK AT VACCINE EXPORTS