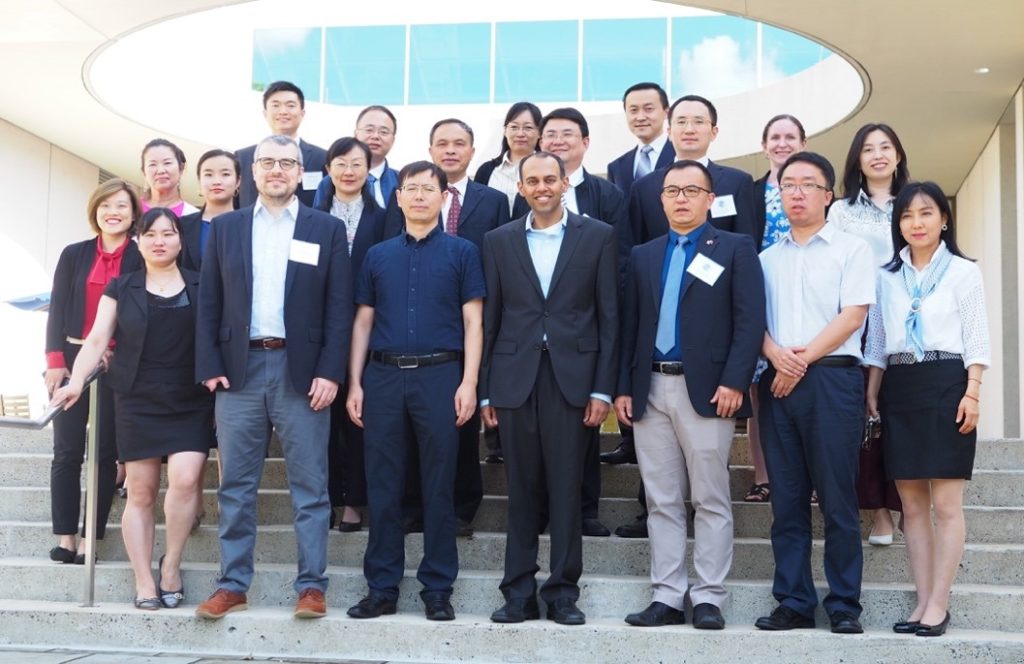 The Duke Global Health Innovation Center (GHIC) in partnership with the Duke-Margolis Center for Health Policy hosted a delegation from China's National Healthcare Security Administration (NHSA) for a week-long health policy and leadership training in August. The training was held at Duke University in Durham, NC, and consisted of classroom lectures, site visits, and social gatherings where the delegation had the chance to learn from a wide range of US experts, healthcare leaders, Duke faculty and researchers.
The training focused on the US healthcare system, current practices for providing insurance coverage and access to procedures and medical technologies, as well as proposed policy reforms to improve healthcare delivery and address rising healthcare costs.
The week began with a presentation that set the foundation for the program. Susan Dentzer  (Visiting Fellow, Duke-Margolis Center for Health Policy) presented on "Health and Healthcare in the United States."
Throughout the program, presenters gave a wide overview of the American healthcare system with topics such as "The Role of Legislation and Government Regulation in US Healthcare" presented by Michael Waitzkin (Deputy Director of Science & Society and Senior Lecturing Fellow, Duke University), "Behavioral Economics and Benefit Design" presented by Dr. Charlene Wong (Assistant Professor of Pediatrics, Duke University), and "Social Determinants, Prevention and the Drive Towards Person-Centered Care" presented by Dr. Robert Eick (Policy Fellow, Duke-Margolis Center for Health Policy).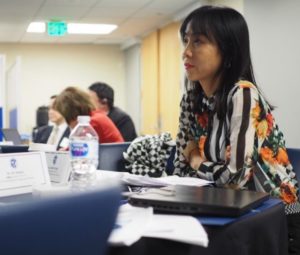 Delegates toured the Duke University Medical Center Campus with Dylan Eiger, an MD, PhD candidate in Duke University's School of Medicine Medical Scientist Training Program. Highlights of the tour included state-of-the-art teaching facilities at the Trent Semans Center at Duke University School of Medicine, the Duke Cancer Center, and Duke University Hospital.
In addition to the training and tours, the delegation had several opportunities to explore the local community. They attended a Durham Bulls game, experienced Southern cuisine, and explored downtown Durham as well. Arthur Huang (Senior Manager, Programs, GHIC) explained the rules of American baseball (in Mandarin) to the delegation as he demonstrated batting, catching, and running the bases.
At the end of the program, delegates shared their feedback and takeaways:
"This program really broadened my horizons on the healthcare insurance structure and design. I really benefited from learning about the concept and logic behind the planned healthcare financing models, the tactical approach of implementing different models, as well as the implications of factoring in the complexity of multiple players and models. I hope to implement the tools/approaches I learned during this program. I appreciated the opportunity to be able to participate such a professional training course. I had a wonderful experience."
Dr. Don Bradley (Consulting Professor, Duke University School of Medicine and Department of Family Medicine and Community Health and Core Faculty, Duke-Margolis Center for Health Policy) reviewed the program in saying, "Thanks… for coordinating what looks to have been a highly successful training, especially if one considers participant engagement and questions as a metric of success…I really enjoyed our time with the Chinese delegation."
The GHIC and the Duke-Margolis Center for Health Policy plan to continue to support the NHSA as it works toward strengthening healthcare policy in China. The GHIC Programs Team, led by Arthur Huang, Jessica Harris, and Emily McAndrew, will continue to develop healthcare trainings in alignment with GHIC's goal to support healthcare innovations and related health policy reforms across the globe. The Programs Team works to offer high quality customizable consultations and trainings to groups across the world. These trainings utilize the domain experts at Duke to create a rich program that invites both the delegates and speakers to participate in a dialogue.
If interested in planning a training for your organization, please contact Arthur Huang at arthur.huang@duke.edu.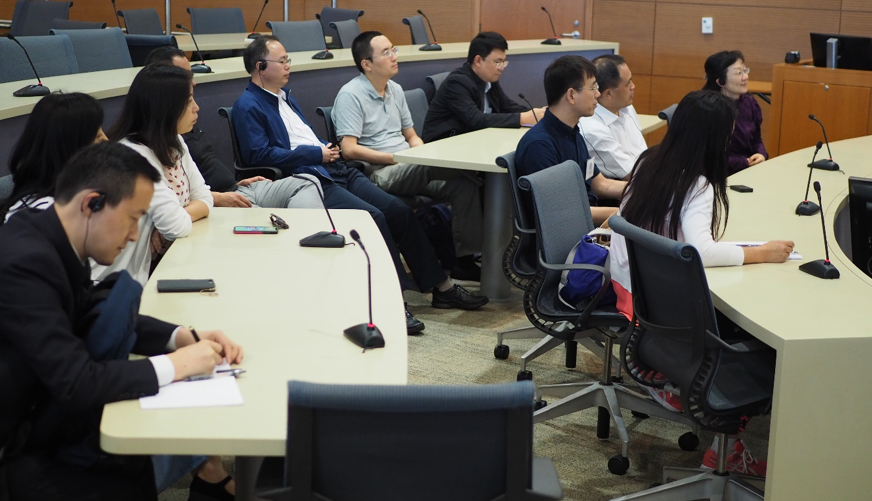 The Duke Global Health Innovation Center Welcomes the Chinese Healthcare Security Administration for Training