Building Trust in Public Health
While trust in public health declined significantly during the COVID-19 pandemic, the public has been losing trust in a range of institutions for decades. The causes of this crisis in trust are complex, deep-rooted, and global in nature. The challenges of building and maintaining trust in health institutions are unique and reflect the important role that science and health care play in our lives.
To explore this challenge, and to align on potential multistakeholder initiatives to overcome it, Duke University, in collaboration with Jack Leslie and with support from The Rockefeller Foundation, hosted a convening from November 28 to December 3, 2022, focused on "Building Trust in Public Health." Recognizing that there are significant regional differences in key drivers of trust, as well as potential solutions to build trust, related to sociopolitical context, culture, and history, among other factors, 20-plus cross-sectoral experts were specifically challenged to design and prepare a new initiative that builds trust in public health, with an initial focus on the US, Europe, and Africa. The convening was particularly designed to identify, build and strengthen a community of leaders and change agents committed to engagement and collaboration in this field. 
Access the summary, including an overview of the emerging conceptual framework for trust in public health, a full cataloguing of the potential ideas and initiatives surfaced in breakout group and plenary synthesis discussions, and finally the three cornerstone initiatives that were prioritized by the participants as worth of further exploration and action post-Bellagio.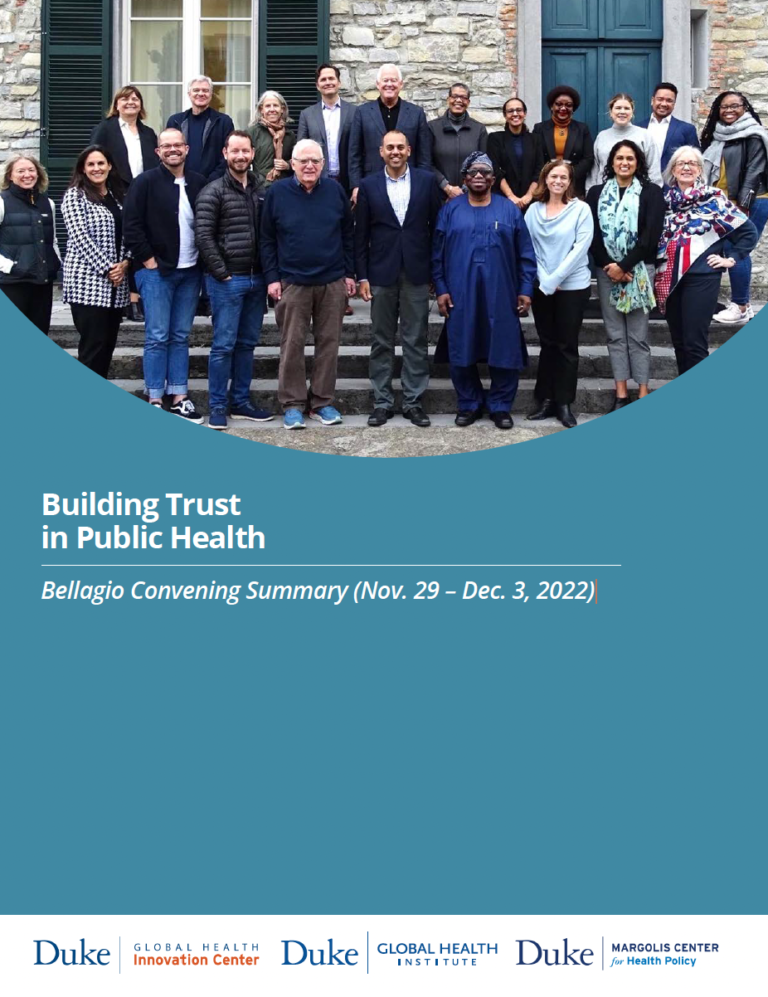 "I'm delighted to join Duke in efforts to build greater trust in public health. Trust in all institutions has been on the decline for some time, and trust in public health has been significantly undermined during the COVID-19 pandemic. DGHI and the Margolis Center are leaders in global health and health policy, and can harness the resources and talent needed to address this important issue."
"The COVID-19 pandemic has made clear that public health organizations need to do more to build and keep the public's trust. Jack has a long track record of bringing stakeholders together around innovative engagement strategies. We are delighted to have him continue this important work at Duke and DGHI."
"Jack has been a pioneer in bringing a broad base of stakeholders together to work to solve leading, complex health challenges. His passionate commitment to health equity, demonstrated through his years of public and private sector contributions on this consequential issue, will inform his valuable contributions to Duke and this initiative to advance public health locally, nationally, and globally."