Leadership Development and Training Programs
Duke GHIC leads high quality trainings ranging in topics from health leadership and management to health policy to innovation. We partner with organizations around the world to strengthen the capabilities of current and emerging health leaders.
Our leadership development and training programs have enhanced the skill sets and knowledge of
more than 700 clinical, administrative, and programmatic leaders
representing  140 organizations in China, Kazakhstan, Japan, Singapore, Kuwait, Qatar, India, Tanzania, Australia, Canada, Kenya, Senegal, Uganda, Rwanda, Bangladesh, and the United States.
View past training and sample modules here.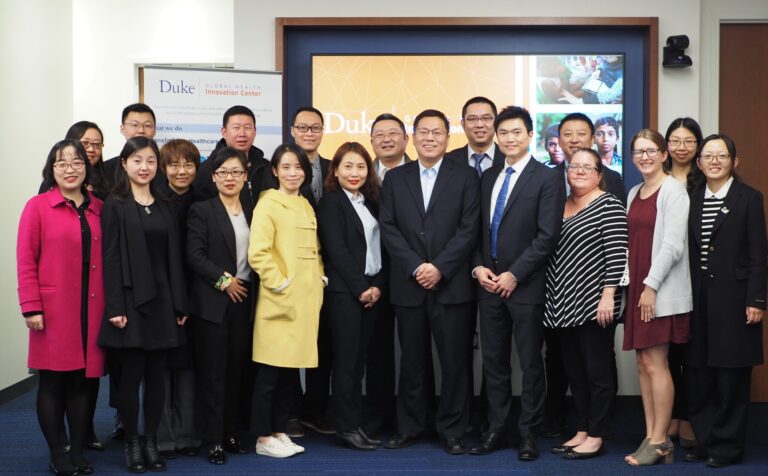 Managers, Directors, and Executives: Health professionals in all career stages with administrative, management, or executive leadership roles in hospital systems, academic institutions, pharmaceutical companies, government agencies, and non-profit organizations

Public- and Private-Sector Health Leaders:

 Experts in public and private sectors who want to drive innovation, learn the latest insights and best practices in their fields, and broaden their networks

High-Potential Individuals: 

Individuals identified as high-potential talent by their organizations who desire to combine leadership competencies with initiative and innovation and develop skills in specific subject areas
We have strategic partnership with entities who are academic field leaders in Global Health, Health Policy, Clinical Research, and Data Science. See the webpage links of some of our partners below:
Case Study #1: Fundamentals of Clinical Research Training via an Online Education Platform for Physicians across China
BACKGROUND: This program provided 500 clinicians and clinician-scientists an introduction to the quantitative and methodological principles of clinical research via a blend of online and in-person training. This program was delivered in partnership with Duke Department of Biostatistics and Bioinformatics. 
OUR APPROACH:
Learned organizational challenges through meetings over several months

Designed curriculum based on the needs of training areas
Delivered training to exceed expectations
LEARNING OBJECTIVES ACHIEVED:
Contribute to the design, implementation, analysis, and interpretation of clinical research studies
Critically evaluate research design and biostatistical aspects of research articles published in the clinical research literature
Participate as collaborators in interdisciplinary clinical research team
LESSONS LEARNED:
Whenever a discussion about the challenges and recommendations takes place, language barriers and cultural perceptions need to be taken into consideration
Learners are often desirous and enthusiastic about the trending topics and recent breakthroughs in-country or around the world. It's essential to constantly understand the interests of the learners and incorporate relevant topics into program content
Technology and connectivity can't be taken for granted, especially when the learning experience is dependent on the technology and connectivity. Whenever coming up with a solution, pressure checking whether the infrastructure could support it is critical
Case Study #2: Health Leadership and Policy One-Week In-Person Training to Chinese Policy Makers
BACKGROUND: This program provided 16 Chinese Policy Makers an in-depth look at the US healthcare system, current practices for providing insurance coverage and access to procedures and medical technologies, as well as proposed policy reforms to improve healthcare delivery and address rising healthcare cost via in-person training in Durham, North Carolina, U.S.A. This program was delivered in partnership with Duke-Margolis Center for Health Policy.
OUR APPROACH:
Collaborated with Duke faculty whom showed interest to be engaged again for the future programs
Designed curriculum with Subject Matter Experts at Duke-Margolis Center for Health Policy
Attained client satisfaction, creating relationship of continued collaboration and further training in the future
LEARNING OBJECTIVES ACHIEVED:
Understand the history of health care reform in the US and the origins of the contemporary health insurance system
Learn various health care payment systems that are used by various healthcare payers, and understand the healthcare charge structure
Assess the impact of reimbursement methodologies and the interaction between healthcare regulation, reimbursement methodologies, and financial decision making
Identify the sources of high health care spending and options for cost control
LESSONS LEARNED:
Collaboration and communication with all key stakeholders (funder, coordinator, training participants) is imperative to delivering an impactful program
Funder may not have a defined idea of the necessary key learning objectives, but with the help of Duke GHIC and our expert partners, a program can be built that satisfies the needs of the group
Testimonials from Training Program Alumni
"This program really broadened my horizon on the healthcare insurance structure and design. I really benefited from learning about the concept and logic behind the planned healthcare financing models, tactical approach of implementing different models, as well as the implications of factoring in the complexity of multiple players and models. I believe I'd be able to implement the tools/approaches I learned during this program. I appreciated the opportunity to be able to participate such a professional training course. I had a wonderful experience. "             
Guodong Wan, Deputy Director National Healthcare Security Administration in China (Health Financing and Policy Leadership Program)
"It has been a great experience working with the Duke Health team on the projects of the bariatric surgery program development and patient safety improvement. The projects have brought Duke's standard to Shanghai Pudong Hospital to establish the high-quality administrative and clinical processes. We also appreciate the… team's diligent work in cultivating the deeper and more comprehensive relationship between Duke and Shanghai Pudong Hospital."
Charles Peng Zhang, former Director of International Medical Unit, Shanghai Pudong Hospital (Bariatric Surgery and Patient Safety Assessment and Development Program)
"Duke University is one of the best private institutions in North Carolina, USA.  I had a great opportunity to gather observational experience on chemotherapy at Duke Cancer Institute. I appreciate the time spent to observe different areas of cancer center and talking to the people (it includes nurses, other health professionals and patients). I met such wonderful people… who helped me a lot to enhance my knowledge and fulfill my objectives. They gave me homely atmosphere and took care of my other needs too. Words cannot describe my gratitude to the phenomenal staff for exceeding any expectation I had. The learning I conceived during my 45 days of tenure at Duke Cancer Institute has upgraded my professional skill and confidence in handling chemotherapy. "  
Sriparna Giri, Nurse Manger, Tata Medical Center (Nursing Clinical Leadership Program)
"I was impressed by the concepts of patient safety and the hospital culture through the leadership training. It was great to learn good practices and tools to apply, improve, and maintain patient safety quality in the hospital."
Gang Wang, President, Beijing Anding Hospital (Hospital Leadership Program)
Testimonials from Duke Partners and Faculty
"I had worked with the…team for the collaborative project with Sunshine Union Hospital in Weifang, Shangdong, China. The team managed the complex contracting process from the beginning to the eventual signing of the contract. It also set up the detailed itineraries, including flight and lodging, for the first trip in September 2017.  This gave me a lot of time to focus on the medical issues of the collaboration. Overall, I had a great experience, and the team deserves a 5-star rating for providing excellent services."
Tony Huang, Professor of Medicine, Duke University School of Medicine
"Collaborating with…[the] team provided me with the opportunity to further enhance my knowledge of Medical Education at the Duke School of Medicine and the Health System.  I was able to acquire a deeper understanding of the school's curriculum while developing a product that will help partners around the world improve their health education programs."  
Leonor Corsino, Associate Professor of Medicine, Associate Dean of Student Affairs/Advisory Den MD Program, Duke University School of Medicine
 "One of the most memorable experiences I have had at Duke was my opportunity to work with Shanghai Pudong Hospital (China) in building their patient safety strategies and methods.    This consulting engagement became possible through… [the] existing partnership with that hospital for clinical development.  The multi-visit engagement gave me an opportunity to learn about healthcare in another country, to see several regions of China and to build a relationship with healthcare professionals interested in the same issues that I work on here at Duke.  I am so thankful to have had this great exposure and experience!"
Judy Milne,  Patient Safety Officer, Duke University Hospital
 "Duke… made offering an international training program for nurse leaders at Shanghai-Pudan Hospital a  breeze. I just focused on the didactic content and experiences and they handled everything else. Their knowledge of the cultural nuances was incredibly helpful to me when designing the content and on campus experiences."                               
Barbara Turner,  Elizabeth Hanes Distinguished Professor of Nursing, Duke University
Frequently Asked Questions
Have more questions? Review our Frequently Asked Questions (FAQs) here. If your question is not on this list, or you have a different inquiry, please contact us.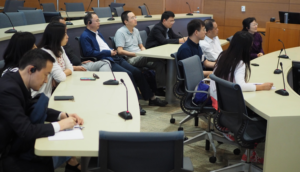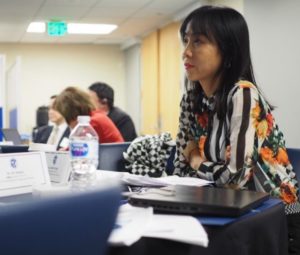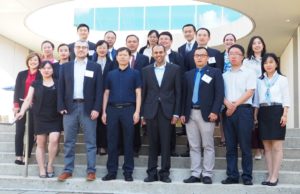 Contact: Lisa Bourget, Senior Director, Strategy, Management, and Partnerships, at lisa.bourget@duke.edu.