FEATURED PUBLICATIONS
Read our April 15, 2021 paper on Reducing Global COVID Vaccine Shortages: New Research and Recommendations for US Leadership.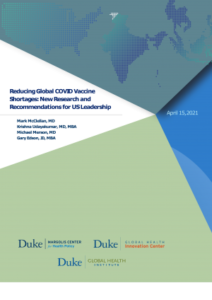 A small number of high- and middle-income nations and regions including the United States (US), United Kingdom (UK), the European Union (EU), China, and India account for the majority of COVID-19 vaccines administered thus far. The uneven global distribution of COVID-19 vaccines has raised concerns and spurred demand for action to ensure equitable access, including growing calls to waive intellectual property protections. There are a number of challenges to scaling-up global access beyond intellectual property barriers, and addressing these challenges requires a multi-pronged, coordinated approach. Leadership from the US on safe, effective, and equitable global access to COVID-19 vaccines is imperative.
In this paper, we present the scope of the global vaccine access challenge, and propose a complementary three-part US-led solution that: 1) increases and leverages funding for the global effort to advance vaccine access through COVAX; 2) undertakes coordinated bilateral and multilateral mechanisms to provide excess doses to countries in need; and 3) increases safe and reliable manufacturing and distribution capacity.
PRESS RELEASE: New Study Shows Rich Country Shopping Spree for COVID-19 Vaccines Could Mean Fewer Vaccinations for Billions in Low-Income Countries: Read more here.
November 2, 2020
Duke Global Health Innovation Center To Develop A "Launch And Scale Speedometer" For Global Health Interventions
January 11, 2019
The Duke Global Health Innovation Center (GHIC) will develop a global health innovation 'Launch and Scale Speedometer', a three-year, $2 million initiative to identify evidence-based practices and pathways that accelerate the introduction and scale up of life-saving technologies and interventions, supported by the Bill & Melinda Gates Foundation (BMGF).
Addressing the lack of high-quality data about best practices to develop, launch, and scale health interventions, such as drugs, devices, and diagnostics, in low- and middle-income countries, the Duke GHIC will collect data on intervention pathway milestones and identify key variables that could accelerate or impede pathways to scale. "This is a great opportunity for the Duke Global Health Innovation Center to leverage our expertise in studying and supporting health innovations to develop stronger data and evidence to inform the broader field of global health, so we can all respond faster to pressing health needs," said Krishna Udayakumar, MD, MBA, founding director of the Duke Global Health Innovation Center and principal investigator for the 'Launch and Scale Speedometer' initiative. "Identifying the characteristics of interventions that affect launch time, and learning best practices for reaching populations faster, will benefit many stakeholders and save lives."
The Duke GHIC will convene an advisory board of product developers, donors, governments, and implementers, to guide the design process for data collection and analysis. In addition to quantitative data analysis on product launch and scale milestone dates, Duke's front-line experience working with the supply and demand side of interventions, including health systems and entrepreneurs, will enable a stronger ecosystem understanding of national and sub-national characteristics for supporting health interventions.
Ultimately the 'Launch and Scale Speedometer' initiative will track the launch and scale trends of hundreds of interventions in order to generate and share valuable insights and good practices to accelerate the reach of global health interventions worldwide.