Updates on Accelerating SL@B Program Work     
Work Products  
Thematic Briefs and White Papers
Building for Sustainability – June 2020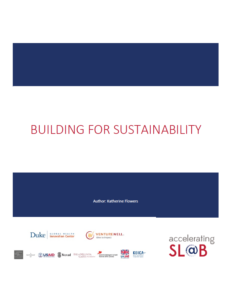 Meeting Market Demand: Establishing Product-Market Fit in LMICs – October 2019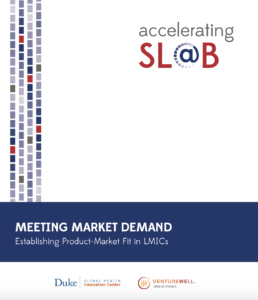 Local Distributors in Low and Middle- Income Countries – October 2019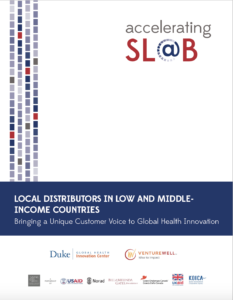 Framing Innovations for Success: A practical guide for assessing scaling needs – August 2019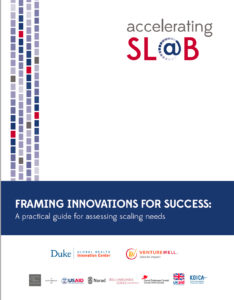 Blogs
Chlorhexidine cord care saved thousands of newborn lives in Nepal– January 2020
The I in Innovation– January 2020
How Challenging Assumptions Can Help Save Lives – July 2019
Partner to Scale Impact – August 2018
Learnings for Accelerating Scale: Key Takeaways from 2018 Xcelerator Workshop – June 2018
Tools for Innovators
A Guide to Understanding Medical Product Buyers – A case study of Kenya
A Guide to Partnering with Healthcare Product Distributors – A case study of Kenya
More tools…
Tool: Business Model canvas (For profit)
Description: This is a one-page template highlighting high-level strategies to launch a product or service into the market successfully.
Benefit to innovators: Innovators used this template to visualize, describe, and assess their business models.
Link: https://www.strategyzer.com/blog/posts/2016/2/24/the-mission-model-canvas-an-adapted-business-model-canvas-for-mission-driven-organizations
Tool: Non-Profit Model canvas (Non-profit)
Description: Based on the business model canvas, this is a one-page business plan template for nonprofits, charities, and NGOs.
Benefit to innovators: Nonprofit innovators used this template to test their assumptions. Link: https://dukeghic.org/wp-content/uploads/sites/20/2020/06/Mon-profit-business-model-canvas.pdf
Tool: Innovator Assessment Framework (Developed by A-SL@B program)
Description: The Innovator Assessment Framework helps categorize early-stage innovations into one of three development stages based on their achievements in four key domains: market, business model, team, and innovation. The Framework maps domain-relevant challenges and milestones to each development stage and outlines activities needed to reach those key milestones.
Benefit to innovators: Innovators used this tool to assess their development stage, identify organizational gaps in each of the four domains, and establish milestones to work toward during the A-SL@B program.
Link: https://dukeghic.org/wp-content/uploads/sites/20/2019/09/Framing-Innovations-for-Success.pdf
Tool: Financial projections (Developed by A-SL@B program)
Description: This Microsoft Excel Workbook is designed to provide those starting or already running a business with information that will allow them to make a "go /no-go" decision. It will help a potential entrepreneur project operating profit, develop a projected income statement, balance sheet, and cash flow forecast.
Benefit to innovators: This tool provided a basis for innovators to develop costing tools for their organizations.
Please email Jessica Harris (j.harris@duke.edu) for more information about this financial tool.
Tool: The DNA of the Team: Team strengths grid
Description: The Clifton Strengths Assessment enables leaders and their teams to discover, develop, and deploy their greatest talents.
Benefit to innovators: This tool helped innovators determine how to leverage their own and their team members' strengths within their organizations.
Link: https://www.gallup.com/cliftonstrengths/en/253676/how-cliftonstrengths-works.aspx#ite-253289
Tool: Getting to know the needs of individual team members
Description: This tool helps managers to understand their teams better and to increase cohesiveness amongst team members.
Benefit to innovators: Innovators used this tool to identify skills gaps in their teams and to develop talent plans to fill those gaps.
Link: https://dukeghic.org/wp-content/uploads/sites/20/2020/06/Getting-to-Know-the-Needs-of-Indiv-Team-Members-.pdf
Announcement – January 2018:
Duke Global Health Innovation Center wins two new awards totaling over $13 million to enhance global effort to save lives at birth
DURHAM, N.C. – Several Duke University organizations, led by the Duke Global Health Innovation Center (GHIC), are partnering with  the US Agency for International Development (USAID) and other global development organizations to evaluate the Saving Lives at Birth program and help organizations scale up maternal and newborn health innovations more quickly and sustainably.
Saving Lives at Birth:  A Grand Challenge for Development seeks groundbreaking prevention and treatment approaches for pregnant women and newborns in poor, hard-to-reach communities around the time of delivery.  The effort is funded by a partnership of international development organizations including USAID, the Government of Norway (Norad), the Bill & Melinda Gates Foundation, Grand Challenges Canada (funded by the Government of Canada), the U.K.'s Department for International Development (DFID)and the Korea International Cooperation Agency (KOICA).
The Duke Global Health Innovation Center, the Duke Global Health Institute's Evidence Lab and the Duke Center for International Development will receive up to $2.8 million over five years to evaluate the impact of the Saving Lives at Birth program and innovations, including their health and economic impact. They will also analyze the program and its portfolio in real time over the course of the next three to five years. This program will be co-led by Krishna Udayakumar, MD, MBA, director of the GHIC, and Joy Noel Baumgartner, PhD, director of the DGHI Evidence Lab.
"This is a great opportunity where Duke was able to bring together different capabilities in evaluation, innovation, and analysis of the economics of international development to help Saving Lives at Birth understand the program's effectiveness and return on investment to date," said Udayakumar.
"We look forward to examining how Saving Lives at Birth investments have impacted innovations that seek to move the needle on reducing maternal and neonatal deaths as well as how the program has influenced the global maternal and newborn health innovation landscape more broadly," said Baumgartner.
The GHIC, along with non-profit global innovator and entrepreneur support organization VentureWell, will also receive up to $10.5 million from USAID over three years to accelerate the scaling and impact of dozens of innovations funded by the Saving Lives at Birth program over the past seven years. Together, they will provide tailored support and access to networks to help them bring innovations to scale.
"We will be working to build the capacity of dozens of grantees in the Saving Lives at Birth portfolio so that they are better prepared to implement innovations at scale in a sustainable way and to provide the organization as a whole with insights to refine its own scaling strategy," added Udayakumar, who co-leads this new program with Laura Sampath, Vice President of Programs at VentureWell.
"Global health at Duke aims to have impact", said Duke Global Health Institute director Chris Plowe, MD, MPH. "Working across multiple disciplines to evaluate effectiveness and strengthen capacity for Saving Lives at Birth is exactly what is needed to ensure that this critical work is successful and sustainable."
"Increasing the value of global health innovations is the kind of work that Duke University does well, and is a focus of the Duke-Margolis Center for Health Policy," said Mark McClellan, MD, PhD, director of Duke-Margolis.  "We are proud to support GHIC's work on identifying valuable innovations, and on improving global policies to scale and sustain them."