Duke's Global Health Innovation Center brought its Accelerating Saving Lives at Birth progra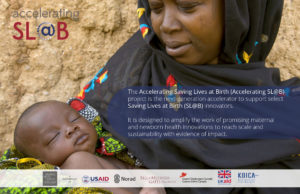 m to share with other participants in the Global Grand Challenges Summit this week in Ethiopia. The summit is a family of initiatives fostering innovation to solvekey global health and development problems, and it is sponsored by the Bill & Melinda Gates Foundation.
The Accelerating Saving Lives at Birth (A-SL@B) program, launched in January 2018, is a next-generation accelerator that supports select Saving Lives at Birth (SL@B) innovators. A-SL@B amplifies the impact of promising maternal and newborn health innovations by assisting organizations in reaching scale and sustainability with evidence of impact. The A-SL@B program focuses on four areas of innovator support critical to successful scaling: Market, Business Model, Team, and Product/Service Innovation.
Our proven capacity-strengthening strategy for innovators follows a continual cycle of discovery, design, and delivery. Data collection informs program design and delivery. Ongoing program monitoring provides data that, in turn, is incorporated into program design and delivery. The A-SL@B program is led by the Duke Global Health Innovation Center and VentureWell in collaboration with five implementation partners: Open Capital Advisors, VIA Global Health, Villgro India, Villgro Kenya, and We Scale Impact.
We're all about saving lives